Does it really work? It claims to be a breakthrough in the science of hair, L'Oréal Laboratories have created L'Oreal Elvive Fibrology Thickening Shampoo, proven to give long-lasting thickness wash after wash.Hair looks & feels thicker, with visible body & bounce.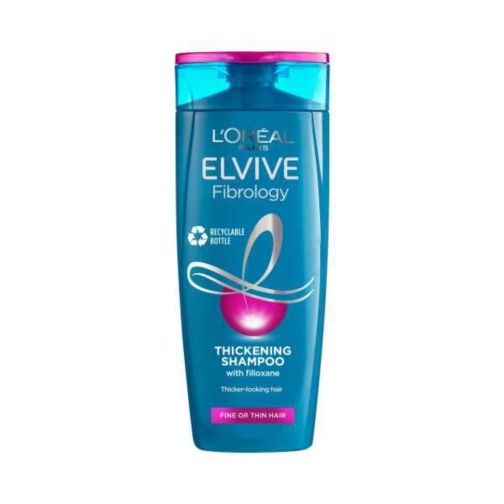 So it wasn't until I started losing masses of hair due to illness about 2 years ago that I realised how great it is to have big annoying hair that makes you feel as though you're wearing a hat, even when you're not. While I'm waiting for the hair I lost to grow back (and I'm delighted to see that it is, there are short little hairs tufting out all over my scalp) I've been looking for the best products to use for my 'new' hair type. I was really at a loss as to how to care for thin hair. So I was really intrigued when I heard about the new Fibrology range from L'Oréal. The claims that the products included ingredients that cause individual hair shafts to expand had me interested, but suspicious.
The first time that I used the range, I could feel that it was different to any haircare I've tried before – the texture is really strange. The shampoo lathers wonderfully, but as you massage it into your scalp, it forms an incredibly thick, silky lather that just gets bigger and bigger. I usually let it sit for a few minutes when lathered in and then rinse. When you've rinsed it away, your hair just feels heavier than it did before.
The range includes:
Thickening shampoo(€3.99)
Standard conditioner (€3.99)
Thickening Conditioning Masque (€6.49) which smells glorious
Thickness booster (€7.69) that you can mix with your conditioner a couple of times a week to 'top up' the thickening effects
Leave-in Double Serum (€8.99)
The 400ml bottles of shampoo and conditioner are currently reduced to €2.54 in boots.The products all contain filloxane, which essentially forms bonds with proteins and the hair shaft when it comes into contact with wet hair. Even when your hair has dried, the filloxane stays inside the hair fibre. Over time, it builds up to thicken, stiffen and strengthen each hair strand. So the more you use the products over time, the bigger your hair gets! The results are immediately visible though. I've been using this for a couple of weeks now, and my hair feels different. The result is more voluminous hair. It's not heavy when dry, or flat at the roots. Your hair just feels nice, moves more, and seems a bit bigger than it was before!
I'm hugely impressed! Will you be trying these? And what do you use to deal with thin hair?