I'm really prone to getting rough, hard skin on the heels of my feel and I have a hard time getting rid of it. As part of my Sanctuary gift set I was extremely pleased to see a bottle of the Sanctuary Intensive Rescue Heel Balm. Even though I have used all kinds of files etc, I hadn't thought about using a cream or a balm to help with the hard skin. Sanctuary claims that this product is moisture-rich and tackles very dry skin.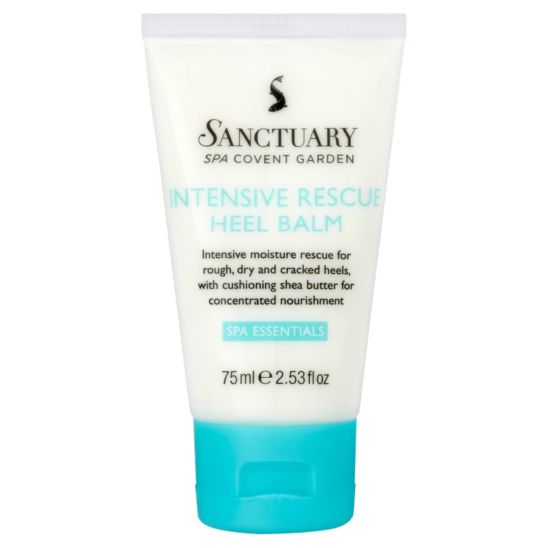 As a Sanctuary product, you can find this at Boots or the Sanctuary Spa and it costs 10.49 for a 75ml bottle. Unlike most Sanctuary products, this one does not come in the usual orange packaging. Instead, the heel balm comes in a tube like bottle which has a light blue flip cap at the bottom and blue and black text printed on the front. The cream inside the tube is of a very thick consistency and is white in colour. As the flip cap is at the bottom, it only takes a little squeeze to get the cream out. On first use, I had no idea how much I was going to need in order for this product to start working and it turned out I used far too much. A little really does go quite a long way with this heel balm. You only need to use a small amount on each heel. The cream rubs in and soaks into even cracked heels extremely well and quickly. I ended up with cream being rubbed into the whole of my feet because I had used far too much the first time.
After using this for only a couple of days, I could instantly feel the different in the skin on the heels of my feet. At this point, my skin felt a hell of a lot softer and the cracks were not nearly as harsh as they had been before. When using this on a longer basis, it gives fantastic effects. I will update you in a few weeks with longer term results but so far it has won me over. I use it every night before i hop into bed. Well worth the price for the amount of it you use it will last for ages.