This Sunday is Mother's Day on this side of the Atlantic. If you're not as organised as you had hoped and find yourself running to the shops on Sunday morning here are some ideas.
1. Sanctuary Spa with Love Gift Set
Image from www.boots.ie
If you're looking for really nice skincare sets to treat your Mammy, Sanctuary Spa is a great option. Sanctuary Spa products are more than just beauty products, they are your very own 'Spa in a Jar'. Expertly created to revive, uplift & replenish. Whether it's 30 seconds or 30 minutes, simply take a breath & enjoy your sanctuary.'With Love' has been specially created in collaboration with artist Frederick Wimsett exclusively for Sanctuary Spa.Inspired by 18th century chinoiserie his bespoke hand-painted murals adorn the homes of celebrities & flagship stores of fashion designers across the globe.
What it includes :
Body Wash 250ml 8.4 US fl oz
Body Lotion 250ml 8.4 US fl oz
Body Scrub 200ml 6.7 US fl oz
Luxury Bath Float 75ml 2.53 US fl oz
Foaming Bath Soak 75ml 2.53 US fl oz
Body Butter 100ml 3.38 US fl oz
Body Moisture Spray 50ml 1.69 US fl oz
Salt Scrub Sachet 60g 2.11 US oz
Heel Balm 75ml 2.53 US fl oz
Hand Cream 75ml 2.53 US fl oz"
Currently on offer in
Boots
for €30.00 it was €62.00. That is a massive saving of over 50%
.
2.Champneys Spa Treatments Mineral Detox Gift Collection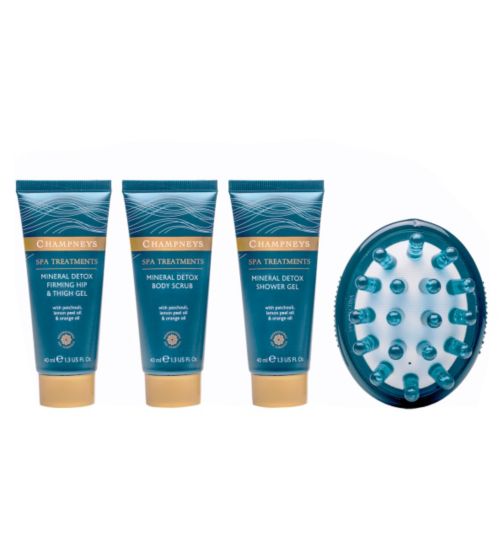 At prestigious countryside spas, over 400 professional therapists use this deeply beneficial range to pamper and soothe their guests. Now they have wrapped up their spa secrets for you to enjoy, every day. Indulge your mum with this collection of deeply moisturising, invigorating body care treatments that will help detoxify your skin by the removal of surface impurities through cleansing and massaging. Enriched with patchouli, lemon peel oil & orange oil.
This gift contains:
Mineral Detox Body Scrub 40ml e 1.3 US Fl. Oz
Mineral Detox Shower Gel 40ml e 1.3 US Fl. Oz
Mineral Detox Firming Hip & Thigh Gel 40ml e 1.3 US Fl. Oz
Body Massager
This is €16.99 in
Boots
at the moment and is a fabulous inexpensive present for Mother's offering them some indulgent spa treatments in the luxury of their own home.
3.Sanctuary Spa Therapies Dreamtime sleep-in-a-box
Many mum's have problems sleeping. Sanctuary Spa therapies Dreamtime sleep in a box is here to the rescue. Blended with essential oils to help reduce tension & stress, helping to prepare for a restful night's sleep.Many women go to the Sanctuary Spa looking not only for pampering & relaxation, but for a range of treatments that really make a difference. One of the most popular is the dreatime treatment which creates a deep state of rest believed to be the equivalent of 3 hours sleep.
Ylang Ylang - known to reduce tension & relieve stress
Frankincense - known to clarify & calm
Patchouli - known to help reduce anxiety before sleep
Includes:
Bath Float
Body Polish
Body Oil
Body Butter


Preparation:
To prepare yourself for a restful night's sleep, turn your mobile phone onto silent, have some gentle music playing & light our Daydream candle.
Step 1: Calm & cleanse with Calming Luxury Bath Float
Step 2: Exfoliate with Smoothing Silk Polish
Step 3: Treat hair, skin & body with our Restoring Body Oil
Step 4: Hydrate with Comforting Night Butter
This lovely product retails at 16.00 and is available in
Boots
I personally would love this product and is great for new mums or mums to be.
4. Yankee Candle Pink Heart 9 Melts
Image from www.yankeecandle.ie
What Mother doesn't enjoy a nice candle, the good quality kind they are unlikely to buy for themselves.This perfect gift for the true Yankee Candle® fan.
Contains 9 Tarts® Wax Melts. This giftset includes 9 fragrances of Tart® Wax Melts: Red Raspberry, Pink Grapefruit, True Rose, Fresh Cut Roses, Black Plum Blossom, Champaca Blossom, Lemon Lavender, Honey Blossom and Pink Hibiscus.
This retails at
€15.95
and what mammy doesn't love smellies.
5.Rocha John Rocha Designer dark purple spotted pyjama bottoms and top set
Image from www.debenhams.ie
From RJR.John Rocha, comes this gorgeous pyjama set with a dark purple top including lacy trims and a sweet bow trim. The set has cream jersey pyjama bottoms with a purple spotted print
Top body: 57% cotton, 38% modal, 55 elastane
Top lace trim: 85% nylon, 15% elastane
Bottoms: 57% cotton, 38% modal , 5% elastane
Machine washable
Fabulous indulgent nightwear set here retailing at €42.00 in
Debenhams
.
So there ya have it, my top 5 presents for Mammies all over Ireland this year.